Shen Yun Reviews: Shen Yun the "Pinnacle of Human Civilization," Says Chinese Ph.D. in Philosophy
CONTENT PROVIDED BY EPOCH TIMES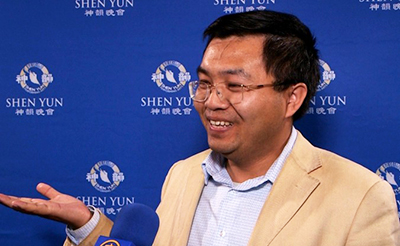 ESCONDIDO, Calif.— Mr. Lijun Hu, a Ph.D. in Western philosophy and divinity school student, was in awe after watching Shen Yun Performing Arts New York Company perform at California Center for the Arts on the afternoon of Jan. 28.
'I cried at the start'
"I cried at the start of the performance because I saw the pinnacle of what human art can reach," said Mr. Hu after the show. "Embodied in the exquisite beauty and divine virtues I saw here today was the quintessence of Chinese culture."
"Shen Yun is unparalleled in its display of this culture. I wept as I am so grateful for the opportunity to see Shen Yun," he said. Mr. Hu spent 11 years studying Western philosophy and three years in divinity school.
The Pursuit for 'Truth and the Source of Civilization'
Educated in China, Mr. Hu spent the last seven years in the United States attempting to advance his pursuit of "the truth and the source of civilization," as he puts it.
"I have realized that what we have thrown away is actually the height of civilization. The best parts of our own Chinese traditions have been thrown away, resulting in a problem-ridden society. It hurts to think about it," he said.
'Shen Yun is priceless!'
Mr. Hu continued, "Shen Yun makes me realize how wonderful and noble our culture is. Shen Yun has inspired me to start studying traditional Chinese culture and our ancient beliefs. I will forever learn from Shen Yun. She has brought an ancient civilization to life," he said. With a sparkle in his eyes, he added, "Shen Yun is priceless!"
"Unmatched aesthetics—gorgeous! I can't imagine how it is that the Shen Yun artists are able to present such divine beauty in such a sacred-seeming way," said Mr. Hu. "Afterward, I couldn't hold back my tears... Every scene was a display of the arts in their utmost perfection."
"I was completely mesmerized by the costumes, the dance and the artists' facial expressions. I forgot about the world around me; I was completely immersed in the height of humanity," Mr. Hu said.
'The lyrics provide us with hope for humanity'
Apart from classical Chinese, folk, and ethnic dance, Shen Yun also features bel canto soloists with original lyrics and music. The lyrics, in particular, are philosophical and thought provoking.
Mr. Hu thinks highly of the lyrics from Shen Yun's vocal soloists, which were displayed on the stage's backdrop in both Chinese and English.
"It's very well written. It pinpoints the problems of our material-centric modern-day culture. Whether it be in China or America, people pursue wealth and status, yet we forget about the eternal elements of life, and we forget about the virtues. The lyrics provide us with hope for humanity, which lies in a belief in the divine."
Shen Yun a 'Living Museum of the Beauty of Life'
Mr. Hu has visited the art museums in Washington, D.C., Chicago and New York; however, he considers Shen Yun a "living museum of the beauty of life and the nobility of the soul."
"Through their performances on stage, I see the hearts of the Shen Yun artists," he said. "They are constantly striving towards the truth, towards perfection, and towards a higher realm. Their performance reflects the height of the human spirit. It touched my soul.
"If today's society were anything like what they are portraying on stage, our world would be much more peaceful. If the virtues displayed on stage were used in interactions among individuals, nations, and races, there would not be so many conflicts in the world."
Shen Yun Brings Hope for the Future
According to its website, Shen Yun's mission is to revive 5,000 years of civilization. As Mr. Hu understands, "What Shen Yun presents is the key to solving today's social issues. If we humans can rekindle our connection to the traditions, to rediscover virtues just as Shen Yun depicts in music and dance, then that will be the way humans are supposed to live. I think this is the only way out for our world today.
"I hope every Chinese scholar has an opportunity to watch Shen Yun. I hope for more and more Shen Yun performances around the world. I hope that eventually Shen Yun will bring about a renaissance of Chinese culture, and share it around the world.
"I think Shen Yun is connecting the world's people through classical Chinese art forms and beliefs. I believe Shen Yun will ignite the flame of the human spirit and forever shine on a better civilization to come," Mr. Hu added.
Mr. Hu clearly felt transformed and awakened to his own heritage by Shen Yun.
He said, "Confucius says, 'If a man in the morning hears the Tao, he may die in the evening without regret.' Even if I die now, I have no regrets because I have seen the pinnacle of human civilization in Shen Yun."
2016년 3월 11일